Phone / WhatsApp : +212 690 98 51 98 ,+212 677 76 20 36 Email: contact@moroccotours4x4.com for price quotes, tour info and Reservations ….
MOROCCO TOURS 4X4
1607 Lot Maatalla / Mhamid / 40 000 Marrakech
Phone / WhatsApp :
+212 690 98 51 98 ,+212 677 76 20 36
Email

:

contact@moroccotours4x4.com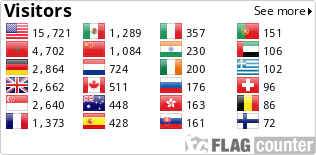 We explore Fes - most important cultural city in Morocco
We explore blue city of Chefchaouen
We experience Sahara desert in Merzouga
DAY 1 : MEET YOU IN TANGER PORT AND DRIVE TO CHEFCHAOUEN:
During the first day of your trip we will meet you in the port and drive through the Rif mountains and Tetoun city to enjoy the views of the beautiful mountains till we get to Chefchaouen one of the stunning villages in the feet of Rif mountains Chefchaouen medina had a Spanish-style square surrounded by many funky arts and crafts stores, roof-top restaurants and cafes where you will spend you night in a nice place to enjoy the breeze and the beauty of the nature.
DAY 2 : CHEFCHAOUEN - VOLUBILIS - MEKNES - FES:
After your breakfast in the riad our authentic journey will start towards Volubilis crossing via Wazan and other Rif villages, in Volubilis we will discover the roman ruins and learn about the archeological site of Moroccan history ,after the visit of the ruins we will shift our way to Meknes city the 17 th century heritage where we will stop for lunch and hang around the historical huge walls of the medina , bab el mansour and enjoy a visit of moulay ismail s shrine. After the visit of Meknes we will drive directly to Fes city where you will spend the night in riad.


DAY 3 : FES SIGHTSEEING:
After breakfast in your riad , you will start exploring the oldest city in Morocco, walking in its alleys and small streets. Our visit starts by visiting the Royal Palace gate, the Jewish headquarter,the first Mellah ever built in Morocco, built during the 16th century. We will ensure that you visit all sites with cultural and historical interest including the famous Al Qaraouine University, the oldest in the region, the Tanneries, the Attarine museum and Mulay Idriss mausoleum. After lunch, you will visit the tiles cooperative and then experience a wonderful panoramic view over the whole Medina of Fes.
DAY 4 : FES - IFRANE - MIDELT - ZIZ AVALLEY - ERFOUD - MERZOUGA:
After breakfast in your hotel you will travel to Merzouga via Errachidia and Erfoud. You will be travelling through the fascinating Tiz Ntalghamt pass and the Ziz Gorge, taking in views of the High Atlas plateau, you'll notice how the scenery changes to reveal hints of the desert as you approach the city of Errachidia, here you will have lunch and enjoy the Berber hospitality. Afterwards, you will travel along the luxuriant Ziz Valley, stopping for panoramic views along the way to Erfoud and Rissani. Arrive at Merzouga on the afternoon. You'll be welcomed with a glass of mint tea before your checking into your riad.( HB).
DAY 5 : MERZOUGA – SAHARA DESERT - CAMEL TREK:
After breakfast in your riad, you can take a little exploration of the local area before the start of your camel ride ; You will visit the Gnawa people - originally from Mali, Senegal and Sudan- in their village Khamlia , where you will learn about their music and their lifestyle . later, we will drive in the desert area to meet nomad families to explore their way of life . Today our lunch will be a traditional Berber meal (Berber pizza). you will have the option also to visit the old city of Rissani - the foundation of the Alaouite dynasty - the current ruling royal family in Morocco. Rissani is surrounded by about 360 ksar (a fortified village with many towers) and has a big souk (an open market), held three times a week. Once called Sijilmassa, this was the meeting place for the salt caravans, coming from Tombouctou in Mali. Here you'll walk through the souk, selling spices, vegetables and cloths. Drive back to the village of Merzouga. In the afternoon, you will ride your camel, guided by an experienced camel-man to explore what is hidden in the middle of the highest sand dunes in morocco. Dinner will be served in front of the tent where you will spend the night.
DAY 6 : SAHARA DESERT - TODGHA GORGES - DADES VALLEY:
Today tour from Tangier continues and we will get up early to watch Merzouga desert sunrise over the dunes of the Sahara. Then wemake our way back by camels to our guest house for breakfast and shower. Then we'll drive through Rissani and Erfoud to arrive to Todgha Gorge where we will enjoy rock canyon and we will have a traditional Moroccan lunch here. We take a short walk through the gorge before arriving at Dades Valley for dinner and accommodation


DAY 7 : DADES VALLEY - OUARZAZATE - AIT BENHADDOU - MARRAKECH:
After breakfast , we will travel through the Dades Valley towards Kalaa M'gouna and Ouarzazate. The route through Dades Valley is the way of the thousand kasbahs – providing numerous opportunities to take some of your best photographic shots of the trip .we will stop at Ait Benhaddou Kasbah for lunch, the largest Kasbah in Morocco, built by T-hami El Glaoui, one of the last Berber chieftains during the beginning of the XXth Century, it used to be one of his stops during his long travel from the Sahara to Marrakech., now the kasbah is one of the UNESCO heritage sites. after that we will shift the way to cross high atlas mountains full of panoramic views and attractive Berber villages all along the way till Marrakech . overnight in a fancy riad in the medina.
DAY 8 : MARRAKECH CITY TOUR :
Today we explore Marrakech in guided tour. After breakfast in the riad , we explore Marrakech " the red city of Morocco". We will ensure that you see the most important sites of historical and cultural interest, including the Majorelle Gardens, the Koutoubia Tower, the Saadian tombs, the Bahia Palace. After Lunch at a restaurant near the square, you will walk through the souks and view hundreds of handicrafts. On the afternoon, you will have some free time to wonder by yourself the other parts of the city .
DAY 9 : DAY TRIP TO ESSAOUIRA:
After breakfast in your riad, you will start travelling to the coastal city of Essaouira. Getting there after about a 2 and a half hour drive to start exploring the city. You'll visit the Skala Fortress; see Thuya wood carved by artisans; walk through the alleys of the medina and view hundreds of handicrafts. This "City of the Wind" attracts surfers from all over the world. Essaouira knew many civilisations - including the Portuguese occupation, which affects much of its architecture - however, it remains a small village with much history. Because of its size and its characteristic blue doors and washed walls, it is also regarded as Morocco's "Jewel of the Atlantic". You will also visit the women's co-operative of Argan oil. Here they extract the oil that is famous for its culinary, cosmetic and medicinal properties. Lunch will be done the Moroccan way – fresh fish "cooked in order" at the fish market. In the afternoon you will travel back to Marrakech. Overnight at your riad . (BB).
DAY 10 : MARRAKECH - AIRPORT:
Transfer to Casablanca or Marrakech airport.
10 DAYS TOUR

FROM TANGIER TO DESERT / MARRAKECH
We explore Dades and Todgha gorges with optional trekking (if time allows)
We ride camels tor each desert camp
We will visit Ouarzazate and kashab of Ait Benhaddou
PROGRAM 10

DAYS TOUR

FROM TANGIER TO MARRAKECH / DESERT
Experienced English speaking driver / guide
Transport in comfortable air conditioned 4x4 vehicle
Pick up and drop off from your hotel
Tips and what's not mentioned
Plane ticket to and from Morocco
INCLUDED 10

DAYS TOUR FROM TANGIER TO MARRAKECH / DESERT
1 Night in the Sahara desert dunes with dinner and breakfast
Accommodation in hotel / riad / desert camp in desert tents
Camel trek to reach the desert camp (1 camel per person)
Morocco Tours 4x4 offers affordable private Morocco holidays that do not compromise on quality service, reliable transport or comfortable accommodation. We do not provide 'cheap' tours but we can provide affordable tours for individuals, couples and small or large groups. We have designed our tours for the mid-level budget traveller but can modify some options for those with a limited budget or for those seeking a more luxurious experience.
Let us know what you are looking for and we will be happy to design a tour that best fits your budget and travel style. Your private Morocco holiday includes travel in an air-conditioned four wheel drive, the services of an English speaking local driver, accommodation and breakfasts and most of dinners. Lunches, drinks and other extras such as entrance fees or tips are not included.
Cost will vary based on:
The season when you travel
The number of people travelling - more travellers, less cost per person.
The number of days you want to be on tour.
We usually provide mid-range accommodation in 3 and 4 star riads and/or hotels, however luxury or budget hotels can also be arranged.
One way or return travel - round trips cost less.
Payments
Bookings are confirmed on receipt of a 25 % deposit. At your request, we will send an invoice with payment details.
Deposits can be paid via direct bank transfer or western union . Receipts will be issued on receipt of the deposit. The balance can be paid in cash (Euro or Dollars or Moroccan Dirham) to the driver on commencement of the tour.
You can pay the balance by credit card or direct bank transfer but this will incur a 4% fee.
Please refer to information about tipping when considering the total cost of your tour.
For cancellation policy click here.
PRICES FOR

PRIVATE MOROCCO TOURS
With local guides and drivers
Reservation / Contact